Wake the Dead (Album Download)
$9.99
The band's début CD, recorded in 1999 as a studio concept with no plans to perform live. But when the Grateful Dead themselves released it on Arista Records, the band quickly played with Bob Weir at the Fillmore and never looked back.
Description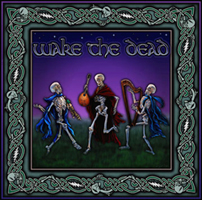 WAKE THE DEAD
$9.99
THE BAND:
Maureen Brennan: Celtic harp
Cindy Browne: acoustic bass
Danny Carnahan: vocals, guitar, octave mandolin, fiddle
Kevin Carr: uilleann pipes, whistle, fiddle
Sylvia Herold: vocals
Paul Kotapish: mandolin, bouzouki, guitar, National Steel guitar
Joe Craven: hand and mouth percussion
DEBUT CD TRIVIA:
This CD was a studio project, originally born of a conspiracy among Danny, Paul, and Maureen. At the time of its completion, not only had WTD never performed live, the seven members had never even all been together at the same time. Grateful Dead Records signed the band within days of hearing the demo in 2000 and began calendaring events for WTD, including a night with the Persuasions at Bimbo's and opening for Bob Weir and Ratdog at the Fillmore. The band had to scramble to learn how to play the songs live. Clearly it all went well.
In these first arrangements, Sylvia didn't play guitar yet and Paul had yet to be coaxed to sing.